INVESTMENT PAID FOR ITSELF IN 2.5 MONTHS
"Considering that we would've had to have 2 more staff if we were in the old system, I'd say the software, the initial investment, paid for itself in two and a half months."
Colt Ables
Operations
Southern Freight Lines LLC
Gladewater, TX 75663, USA
FREE BOOK – "HOW WE TRIPLED OUR FLEET SIZE WITHOUT ADDING ANY OFFICE STAFF"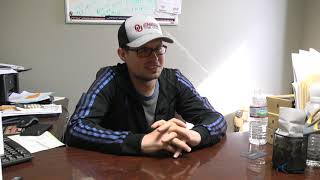 MOVING FROM 24 TO 75 TRUCKS WITH THE SAME STAFF
"In the beginning of the business and being with Axon, we had 24 trucks. We've increased those trucks to approximately 55 and we plan to increase again another 25… We have not had to increase any of our staffing."
Julie Taylor
Accounting
Southern Freight Lines LLC
Gladewater, TX 75663, USA
FREE BOOK – "HOW WE TRIPLED OUR FLEET SIZE WITHOUT ADDING ANY OFFICE STAFF"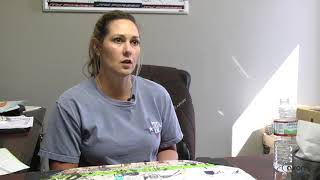 We recently paid a visit to Southern Freight Lines of Gladewater, TX, and spoke with Colt Ables. He had many interesting things to say about their recent spinoff and expansion of certain divisions within the company – and on how they are using Axon Software to stay lean and efficient.
I'm Colt Ables, from Southern Freight Lines from Gladewater, TX.
Can you tell us a bit about the company?
We're in the dry freight business as well as the flatbed business. We have other divisions in heavy haul and we have our sand division.
Our sand division initially began in 1996. In 2015, we broadened our horizons and diversified our holdings into the freight side because oil prices were beginning to fall. We wanted to have another means of income as well as to keep our drivers busy. We wanted to have work for the guys.
In 2018 we spun off the dry freight and reefer divisions into Southern Freight Lines, which is where we are now.
We started using Axon in 2017 on the sand side and in 2018 on the freight side. We've used it a hundred percent of the time, so there hasn't been a transition as far as converting data. Dispatch uses it for everything. The drivers appreciate the data they get and so does our billing department. It's a lot simpler.
As long as the information is put in right, it simplifies the whole process. It's been a real asset.
How is your overall experience with Axon Software?
The people are great. Every time we have to ask them a question, I hear back from them within 15 minutes. It's always great to hear a friendly voice on the other end of the line that's knowledgeable in the software as well as helping it adapt to the environment that we are trying to create in our workplace and the necessities that we have.
Training was good. Our trainer was friendly, wanted everyone to grasp the concepts, and wanted to show them the true benefits within the program.
Many fought it, I hate to say, because I think they thought if they didn't sign on, we'd just go back to the way things were. That was never going to be the case, but once they stopped fighting it, they saw the true benefit in the software and how it really made their job simpler.
Keeping track of information, utilizing reminders and alerts – it's very beneficial.
The software itself – I've enjoyed it. It's simple to use. There are so many tools in Axon that if you utilize them, it really increases the efficiencies.
If I'm hiring owner operators, I can give them up-to-date, live, "Hey this is what our trucks are doing. This is the kind of revenue they're doing." You know, to the truck. I can speak about whatever number they want to speak to.
Has Axon Software helped you expand the business and keep costs down?
That's just it. When we spun off Southern Freight Lines from Tim Ables Trucking, we had about 25 assets and 3 personnel. Now we are running about 55 assets, still with just 3 personnel.
It has enabled us to work smarter and not necessarily harder in getting things accomplished. Dispatch appreciates not having to manually send information as much as they had to before. It's one thing to utilize QuickBooks and spreadsheets, but when it's all in an integrated system it really helps.
Has Axon Software changed anything about how you run the business?
When we first began, drivers would put their miles on a sheet of paper. You either trust them or you don't. Being able to pull miles out of Axon helps compare what's written on the sheet, as well as just utilizing what's in Axon. People make mistakes, but that's where it comes in handy to be able to audit that information and make sure it's right. Everything is there and it's easy on the eyes. That's what I really like about it – it doesn't look like an old DOS spreadsheet. It's an attractive report, so it has really helped with transparency.
Are you using equipment revenue reports?
Yes. We run our weekly numbers for the revenue on each truck, and we have the ability to pull an order history report. We can see the profit we are making off each customer. When all those inputs are taken into account, it's very beneficial.
We might only be making this per mile off this customer, but when another 2 customers are tagged on with backhaul versus forward haul, we have a pretty fair comparison as far as what's profitable and what's not: in the near term or long term, what might need to be cut, or what rates need to be adjusted.
If you hadn't made the switch to Axon Software, what would your staff numbers look like?
Well, part of me thinks we would have tried to make it work with 3, but that would just work for the short term. Longer term it wouldn't.
There is only so much you can do with QuickBooks. It's just accounting software, so you rely on self-generating pro numbers to build the truck loads. There's extra data entry in what dispatch does, which wouldn't work on QuickBooks. And you have to make sure that information gets input by hand into QuickBooks by your invoicing, payables, or payroll department.
We would probably need 2 more people just to make it work. Considering the margins that we make on the freight side, there's only so much you have to work with. That would really kill our bottom line.
What will happen as you get busier and add more trucks?
The data flow downstairs might increase, but with how we're scanning in information, invoicing is going to be just audit and click a button. That might take an additional hour over the course of a week.
We feel that if we gear up to having 75 assets, we can still manage with the current payables, invoicing, and payroll department that we have. Dispatch is the only adjustment we'd have to make – probably add one additional dispatcher, just making sure the right information is input.
What would you say your ROI with Axon Software has been?
Arguably, considering that we would have to have 2 more staff if we were in the old system, I'd say the software's initial investment paid for itself in the first 2 1/2 months.
Has Axon Software helped with customer relations?
It's completely simplified, versus having to go through a spreadsheet and QuickBooks. Give us an order number or somewhat of a reference number, even point A to point B, and we can get that information in a matter of 30 seconds.
If somebody in the industry asked about your experience with Axon Software, what would you say?
I think if you're not using Axon and you're in the trucking industry, then you are losing money, because there are so many advantages and benefits that could be gained from having it.