HIRED 1 ADMIN STAFF TO HANDLE 2 NEW BRANCHES
"Since implementing Axon we've grown by 50% in number of trucks, and opened 2 new branches in Edmonton and Red Deer. We have 1 admin person we hired to handle both those branches… All the billing, all the invoicing, all the payables, all the payroll."
Bob German
VP of Finance
Oculus Transport Ltd.
Calgary, AB T2P 5C5, Canada
FREE BOOK – "HOW WE TRIPLED OUR FLEET SIZE WITHOUT ADDING ANY OFFICE STAFF"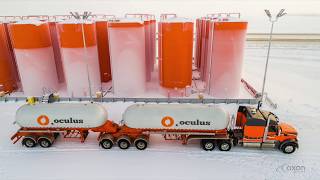 RUNNING TWO NEW LOCATIONS WITH 1 ADDED STAFF
"Since we started using Axon, we have two new divisions, in Red Deer and in Edmonton. We have only had to hire 1 staff… About 40 more trucks."
Gurpreet Kalkat
Financial Accountant
Oculus Transport Ltd.
Calgary, AB T2P 5C5, Canada
FREE BOOK – "HOW WE TRIPLED OUR FLEET SIZE WITHOUT ADDING ANY OFFICE STAFF"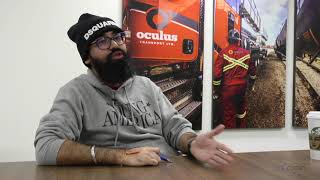 Oculus Transport Ltd. is a very successful company operating from multiple locations in Alberta, Canada. We stopped in for an interview with Bob German who gave us more details about how they utilize Axon Software to stay lean and efficient during constant growth and the addition of new branches.
I'm Bob German, the VP Finance at Oculus Transport Ltd. I've been here about four and a half years, although I worked with Ric for many years before that.
I'm Gurpreet Kalkat, a Financial Accountant at Oculus Transport from Calgary, AB.
Can you tell us a bit about the company?
The company has been in existence since 2011.
The major shareholder of Oculus was in the oil field trucking business in a previous life, and the time was right to start again. He had sold out once to a public company and it was time to get back in. He still had properties, the shops and yards. He bought the trucks, and away we go. We got started in the trucking business again.
Can you talk about making the switch to Axon Software?
We started using Axon about three years ago. March of 2017 was our implementation date. Previous to that, we were using a basic accounting package for software and lots of manual spreadsheets. Nothing was integrated. It was as basic as you could get.
Axon is an integrated system. The best example of that is the revenue stream, right from the bill of lading, the tickets, all the way through to invoicing and collection and reporting your receivables. Everything – it's an integrated system. Your payroll hours? All that stuff is integrated together, so now you have a database that you can draw data out of and really analyze the business effectively. It's all in one spot. If you can collect it, you can report on it.
Do you use scheduled reports?
Yes, we do. One of the best examples is analyzing our rates. Our rates are different depending on which run we're doing, right? Before, we would have to go back and pull bills of lading. It would take hours to say what the average rate was on this run. Because a lot of our rates are cube rates, so depending on how long it takes and all that. . . . What's the hourly rate?
Now we do it in basically the push of a button. That kind of reporting has really been enhanced. Time is money. I don't even know if I can measure it, but it's maybe a hundredth of the time? I remember spending days analyzing rates on routes, and now we can do it every day if we want. It's simple.
What other kinds of problems has Axon Software helped you solve?
It has shortened the timeframe and resources needed to do things because it is an integrated system. Responding to customer requests. . . . A lot of our customers want their invoices a certain way. Every customer is a little different. Now we can customize it and give them what they want.
We can report on volumes. We're dealing with their revenue stream and we are hauling their production. They want to track volumes and what's going where and all kinds of stuff. We can do that in a heartbeat now, once we set up the reports. You want it monthly? Here it is. It's literally at the push of a button.
How does the software work from an invoicing standpoint?
The effort required to get the invoice out to the customer has shortened up substantially. We shortened up the invoicing period.
If we can make it easier for the customer to understand what they're being invoiced for, that helps them pay us. If there are no questions or anything, and if it's all done up front, then it smooths the payment process.
Has Axon Software helped you to reduce the office workload?
We've grown by two branches and 40 trucks, which is by 50%. We have only had to hire one person to handle both branches.
Call it economy of scale, call it efficiency. . . . It's tremendous. I think we could do that again and not hire any more people, depending on the location.
There is a lot of reporting on volume that is required out of those two branches in terms of the fluids that we are moving for our customers. It's probably more intense than our other branches, and it's all handled by one person.
One admin person handles all the billing, all the invoicing, all the payables, all of the payroll. The information is readily available in the system. She would not have been able to do that otherwise. There would be spreadsheet hell, duplicate and quadruple re-entering in different places.
That's the beauty of an integrated system like Axon. You enter it once and then you can get it.
Is the staff happier?
Yes, because I mentioned spreadsheet hell? We don't have that anymore. Things that would take hours to do now take minutes to do. . . and it's accurate all the time. Spreadsheets, when there is something wrong you have to go and find it. We don't have that anymore.
If we get questions from customers that need to be answered, we can readily and quickly answer them. If you can service your customers quickly, then your customers are happy, and you are happy. Morale is better.
From a return-on-investment perspective, has Axon Software paid for itself?
Oh, within a year, maximum. Probably sooner than that. Axon pays for itself every year multiple times.
How does Axon Software compare to other software you've used from a support standpoint?
All I know is my experience. I'm not a hands-on system guy, but I sat in on all the implementation and training to make sure things were going smoothly.
The time it took from when we went live to when things were running smooth was only a couple of months. That's very unique for a system conversion like that.
Axon's training staff and their whole support group were fantastic during that. It was way smoother than I had anticipated. The biggest part is getting people on side with change. You have to have management involved in it to get support from the group. The Axon training team worked well.
Axon is a great system. It is a specialized transportation system. It just fits the pistol perfectly. It does everything we want to do, and probably way more than we need, but we'll discover other things that will make us way more efficient yet.
If an industry peer asked about your experience with Axon Software, what would you say?
First rate. Excellent. Right from the get go, when we were first evaluating systems. We spent time with Axon and they explained the demo, right through training and implementation. The follow-up support has been first rate.