FUEL EXPENSES REDUCED FROM A WEEK-LONG JOB TO HOURS
"We use fuel downloads. It has gone from a week-long job down to a matter of hours, and it pretty well does all the work for you. It has helped out a lot and cut down a lot on office hours."
Jamie McMillan
Owner
McMillan Transport Ltd.,
Medicine Hat, AB T1C 1V2, Canada
FREE BOOK – "HOW WE TRIPLED OUR FLEET SIZE WITHOUT ADDING ANY OFFICE STAFF"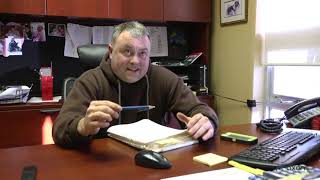 One of the keys to success is simply doing more with less, and this is especially true for smaller companies. A perfect example is McMillan Transport Ltd. In this interview, Jamie McMillan explains how Axon Software and the power of organization helped propel their family business to the next level.
My name is Jamie McMillan. We run McMillan Transport Ltd., based out of Medicine Hat, Alberta. We have offices in Calgary and Medicine Hat and a yard in Edmonton.
Tell us about your company.
We have been in business since 1950, and it is a family-run business. We are general freight carriers throughout western Canada – predominantly Alberta and Saskatchewan.
My grandfather started the business back in 1950 and we actually started as an earth-moving business. Eventually we got into hauling freight. When my grandfather died, my grandmother took it over and ran it with some help from a wonderful family friend. My grandmother ran it until the 90s, which is when we started buying it out.
am the third generation and my father is still here almost every day – he has stepped back, but he still comes in and checks things over, which is good.
We started using Axon software in 2007.
Tell us about your experience with Axon Software.
Axon has definitely simplified things for our office staff. We were overrun with paper and now it has cleaned things up and made things a lot easier on our staff. It has kind of simplified everything.
We were looking at adding a couple more office staff for sure, just to keep up with things when we were busy, and things were flying.
We would've needed two or three more people to keep going.
Instead, because of Axon, we were able to maintain our office staff level while still growing.
Have things changed compared to how you used to do business?
Now our staff isn't tied up doing paperwork all the time manually. We can get onto other things when we need to, and it has freed up a lot of time. We haven't had to add any new staff, which is good.
Before, we had a lot of checks and balances. We had to make sure everything was accounted for and whatnot.
With Axon it's real-time software. You only have to put it in once and then it takes care of itself. If you forget about an order or something like that, when you run your reports you can find it right away.
It's a pretty simple system actually.
Has Axon Software changed anything with doing your fuel taxes?
It has really simplified it – we use fuel downloads. It has gone from a week-long job down to a matter of hours, and it pretty well does all the work for you. It has helped out a lot and cut down a lot on office hours.
How do the drivers like their settlements?
Once they get used to it, they know what to look for and how the pay works. Now we can find things right away if they have problems – we just go back to the certain area where things are.
It has really simplified things. Very seldom is there a problem.
Has Axon Software helped with the invoicing process?
We used to have to wait for all the paperwork to come here to do all the invoicing. Now, it doesn't matter whether we have the paperwork or not so we can speed that up.
We can basically do our invoicing whenever we want and that makes things a lot easier for us.
We can send stuff to our clients right away. We can get them invoiced and get everything to them within minutes.
How do you like the equipment revenue reports?
You can download that at any time to see what each truck is doing, to the cent. You can find out where you are making money, losing money – see the curves, I guess you can say.
You can head off problems before they even start. It does make it easy, that's for sure.
Before, it was all by hand, figuring things out. You would have to get all the paperwork for each truck, figure out the revenue and the costs. With Axon, it's just a matter of clicking the buttons.
Has the Axon Software report builder helped you with your business?
They are good because they let you see where you are from different standpoints in the month. You can see trends, how much you're spending, how much you're making. For quick notes on a daily basis, it's good.
Is your Calgary office using the software? How is that working?
Yes. Like I said, it's all real-time so everybody knows what everybody is doing. We can come in down here and look at the loads in Calgary, see where they are going, and all kinds of stuff. It is all right at your fingertips.
Has Axon Software helped with your customer service?
Our customers are a lot happier now because there are very seldom mistakes. We are a lot more efficient than we used to be.
It has really simplified things and, if it's simpler for your customers, that means you are going to be paid a lot quicker too. There is really nothing to question when all the bills are coming out properly.
It provides a really good system of checks and balances because everything gets a lot of eyes watching what is going on. Problems are picked up quickly.
How would you describe Axon Software's ease of use?
It is very easy to use. I can basically put one of my drivers in here, and that day he could start generating orders and doing the work that needs to be done on that level. He is not going to do the bookkeeping, but Axon is very simple.
Somebody who doesn't even know much about computers can jump in here and get themselves going.
If someone in the industry asked you about your experience with Axon Software, what would you say?
It has been a good experience. It really does help you out and it is very user-friendly.
Basically, anything you can't find, the support staff at Axon will help you find it or figure out a way to get you what you want.
It is really great for a trucking company that needs to watch their bottom line – Axon can pretty much take it right down to the cents.
If we were to double our fleet right now, I would be willing to bet we wouldn't have to hire anybody else to do paperwork. We could probably do it as we are. We may have to hire somebody to help with dispatching it all, but that is just to get the loads organized.