AXON SOFTWARE TRAINING WAS THE GREATEST!
"There was no training from the other company. It was just 'here you go.' All the staff that I have in here have done Axon training with someone and they appreciated it. They thought it was the greatest thing."
Dancy Walker
Manager
Higginbotham Trucking Ltd.
Pincher Creek, AB T0K 1W0, Canada
FREE BOOK – "HOW WE TRIPLED OUR FLEET SIZE WITHOUT ADDING ANY OFFICE STAFF"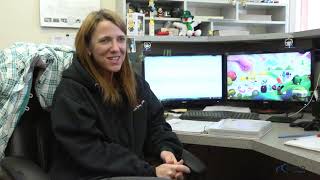 Higginbotham Trucking suffered from one of the most common ailments in the trucking industry – way too much paper. Eventually, enough was enough, and they looked for another way. 6 years ago, they found it in Axon Software. We dropped in for a chat with Dancy, to find out why she claims it was the best investment they ever made.
My name is Dancy Walker, Manager from Higginbotham Trucking Ltd. in Calgary, AB. I do dispatching and oversee the company with my husband.
Tell us a bit about the company.
We haul scrap posts down south to the Portland/Tacoma area, and then we bring back whatever we can put on those trailers. We have done some of our bigger, heavier hauls down east, but mostly we work in the west. We have flatbeds, stepdecks and multi-axle trailers.
The company was started in '88. It started with my husband just hauling cattle off of his farm and then grew from there. In October of 2012 we moved to this facility, and that is the same time we took on Axon. When we moved here I told him, "No, I can't do the handwritten stuff anymore." Everything was paper paper paper.
Can you tell us about your experience with Axon Software?
It has been my lifesaver. Everything else before was binders of paper. Now everything is clean. It all fits together where it is supposed to be. It starts with what I do – dispatching my loads out, to invoicing, then to receivables, to paying bills against the trucks. We can keep that organized now, so that we know exactly which truck got what fixed, and when. It is the most amazing thing. It keeps track of payroll which I used to do by paper, which was really difficult back then. Everything – starting from the truck sitting in my yard, going to the load, to the fuel tax, to breaking down the maintenance of it – everything is right there.
Has Axon Software helped with fuel tax?
I do all my fuel tax on Axon now too. That was one of the later moves. We didn't have that module at first and I was still doing it by hand, but then finally we just said no. It really helps. I don't mess up as much anymore – don't get those wonderful phone calls from IFTA saying, "Why did you go here without any miles?
Before, we had to have trip sheets, where the drivers would write everything down. I had to do the miles for my own payroll. I had to have written miles for IFTA. I mean, IFTA used to take me a month and now it takes me a couple days. It makes my life a lot easier to download fuel bills, because punching them in one by one was not the funnest things in the world. Pulling right from the download is much easier.
Do drivers like their settlements?
Oh yeah. They know exactly what they are getting paid. It has all their miles in it. Now everything is incorporated and it makes my direct deposit really easy. The drivers love their settlements, because they can go through and see if I've missed anything.
Has Axon Software changed the way you do your invoicing?
It's not all done by me writing invoices out anymore. It is actually all done in the computer. Everything gets scanned in. We can actually go back a year or two from now and see an invoice with all the attachments on it. It makes our lives a lot easier to have everything incorporated all into one area.
Has Axon Software helped you improve customer relations?
It has helped a lot. If a customer phones me and says, "Was this invoiced out?" I don't have to rummage through boxes or filing cabinets anymore. I go into Axon and say, "Oh yeah, here it is." If we do end up brokering out loads, it helps us a lot to have all their information in one spot. I don't have to do a lot of searching anymore.
Has Axon Software helped you in streamlining the office?
Everyone knows what is going on now. My bookkeeper can go into an invoice or an order and see what is going on instead of having to rely on me all the time, trying to find a file if it's still sitting on my desk. It's all there, it's never lost. It streamlines everybody in the office so we're all together.
We're now down to two full-time staff in the office. Kevin is here once in a while, but Michelle and I are the main staff in here. We used to have five of us in here and now there are only two. Since getting Axon, we have gone from five full-time employees down to two, and it has made our lives a lot easier at the same time. We can see what's going on and interact with the jobs together.
Do you use the reminders pop-ups?
That's perfect. That's why my shop is so full right now, because I have a bunch of safeties that are due in December. It's there. It pops up if I am using the truck's name in the trip – it will pop up and say the safety is due. Or it might email me, so there are a few different ways that it tells me when I'm due for things.
Even my permits. I have my permits for my trucks in there. It reminds me that my permits are due, and if I didn't have it I think I would go nuts, because I used to do it with paper.
How is Axon Software in terms of return on investment?
I would say that it's the best investment we have ever made. Honestly, we tried another system, but it was so complicated that I was pulling my hair out more than anything. Things weren't streamlined through that, so I finally said "No, I'll go back to paper." Then someone mentioned Axon to us, because there are a couple of other companies that we deal with that had it before us, and they said to check it out. It has been my lifesaver. It really pays for itself.
How does support and training compare to other software you have experienced?
There was no training from the other company. It was just, here you go. All the staff that I have in here have done Axon training with someone and they appreciated it. They thought it was the greatest thing. Even on a day-to-day support – if I need to phone Axon up, they're there for you. You don't have to wait a week for a response, they know what they're doing. All the staff are friendly and if they don't know your section, they won't pretend to know that section and they'll say "Hey, I am going to find some answers for you or I'll have someone else call you back." That's the most important thing, because another system we were using would try to guess, and sometimes the answers weren't right. You were backtracking a lot in that system. I don't want to be backtracking all day, I just want to go forward with my work, smoothly.
If one of your peers in the industry asked about your experience with Axon Software, what would you tell them?
That this is the best program I have ever seen out there for everything. The user-friendliness of it, the support you get behind it, the support you get even in the background.
A couple weeks ago, something was entered wrong. It changed something in our system, and Axon was phoning us saying, "Hey do you realize that…" and I can't even remember what it was, but they are looking after you in the background too. It's not like you are doing everything – they are there in the background, and they are there to save you in different ways. I think everyone should have Axon.