WE CHOSE AXON SOFTWARE – A SYSTEM WE'LL NEVER OUTGROW
"We wanted a system that could grow with our business so that, theoretically, if we doubled, tripled, or quadrupled the size of our business… the system would still be applicable."
John Giesecke
President
Cliffside Transportation Services
Greycliff, MT 59033, USA
FREE BOOK – "HOW WE TRIPLED OUR FLEET SIZE WITHOUT ADDING ANY OFFICE STAFF"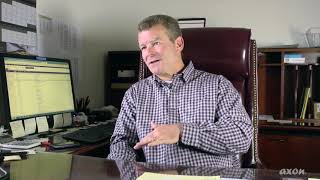 Cliffside Transportation Services is a specialty trucking company from Big Timber, Montana. Cliffside is frequently trusted with some very valuable, very time-sensitive freight. So, who do they trust to help them run their own business? We met up with John Giesecke to find out why the answer to that question is Axon Software.
My name's John Giesecke. I'm President of Cliffside Transportation Services from Big Timber, Montana.
Tell us about the company.
Our business operations focus on a niche in the trucking space that is designed around high-value, time-sensitive freight – expedited freight. We move freight that needs to get from A to B over a long distance quickly or needs to be at a factory at a very specific time for that factory to continue to operate.
We also operate in areas of trucking that require security protocol, like pharmaceutical product or high-value electronics.
There could be unique requirements from the customer with respect to the equipment and the drivers to haul that freight. Our drivers have a lot of higher-end credentials – HazMat, security clearance, those types of things.
We do a lot of work for the government moving DOD material and things along those lines. It's a niche business that has served us well and the Axon platform has melded in very well with that.
Tell us about your switch to Axon Software.
We started using Axon about four months ago. Our company has been growing steadily over the last five years. We had another operations system and we used QuickBooks©.
We were finding that it took too much time to enter the information into the operations system that we needed to understand what our profitability and costs were at both the truck and fleet level. We needed that information to understand how the business is working, but that information didn't interact directly with the financial side.
We obviously needed proper financial statements at the company level to be able to present things to outside folks like financial representatives and banks.
We were having to enter information in multiple places. The payroll was not integrated so we also had a third system. Each time you enter information you have an opportunity to make mistakes. We were making more mistakes than we wanted to – the effort to put it into all three of those systems was time intensive. We thought, 'As we continue to grow the business, these systems are beginning to get stretched.'
We decided to research and find the platform that allowed us to integrate all those functions into one system. We can now input up front and it flows through the system without having to input that data again. It dramatically reduces the amount of time involved and the amount of potential errors and problems that you might have.
We wanted a system that could grow with our business so that, theoretically, if we doubled, tripled, or quadrupled the size of our business over the next five to ten years, the system would still be applicable and still be workable for us. We've made the switch over to Axon and this will be the last switch that we have to do.
You mentioned earlier that you were entering the same things over and over again. How has Axon Software helped you with that?
It's clear that one of the major benefits is that it is an integrated system.
Most of the trucking-specific software systems only handle operations. They help you understand what is happening at the truck or equipment level, but they don't include the financial package, so you end up having to go out and purchase a financial package. Then you have to figure out a way to integrate, which generally isn't very realistic, so then you have to figure out a process to bridge from here to there.
There were some other operating software packages that appeared to be good packages, but they didn't offer the integrated financial side.
I have a finance background and I understand the importance and the complexities of the finance side of the house, so getting something where you input data once and you're done was very powerful for us. That's ultimately why we decided to go with Axon.
Have driver settlements and owner operator statements changed?
It integrates all of that now, whereas before we were doing that offline in Excel. Now everything flows through. When we set the load up, we set up the revenue side of the equation and set up payroll. All that stuff moves through into an integrated driver or owner operator settlement.
That statement not only prepares the payroll for the week, but it can be sent out electronically to all the drivers. They can see what loads they were paid on and what they got paid on each load.
We had a pretty good process before, but it was labor-intensive. It required incremental entries and was Excel-based so there were mistakes that were made on payroll. Cells would get corrupted or moved, or information didn't get input completely accurately. This has really cut down on those issues and I think people are very pleased with it.
Has Axon Software improved your productivity in the office?
Tremendously. We will have grown the business by about 40 to 50% by the end of the year and we have not hired additional support staff.
Going forward I think we can still continue to grow quite a bit without having to bring in any more personnel.
It has really dramatically reduced the amount of data input and up-front work that our support group had to do previously.
We are getting better information out of the system, which allows us to make better decisions. We will be able to leverage the platform going forward as we grow and not hire nearly as many people as we would have otherwise had to have hired to manage the backend of the business.
Right now, without Axon, we would have probably needed at least two more staff, and that's an expensive proposition when you factor in salary and benefits. So, it is a significant savings.
If one of your peers in the industry asked you about your experience with Axon Software, what would you say?
I would recommend Axon to anyone – and I have. I think it's a platform that really understands the trucking space. It allows you to use whatever elements of it you need and other elements, that you may not need today but may need tomorrow, are there.
As an example, part of our longer-term business plan is to get into the brokerage business. This allows us to get into the brokerage business and it's a platform that is designed to work for that business.
Most of our business is over-the-road trucking, but we have just gotten involved in the oil fields. Axon has a very specific oil field application, so what I love about it is it will allow us to grow. We can grow in a couple of different directions and we'll still be able to use the same system.
Anybody who I would talk to in the industry that is looking to diversify their business and get into some other aspects of the industry, this system will work for you.
Since joining Axon, our company has grown about 40-plus percent and will continue to grow in the double digits in the coming six to nine months. Axon has been a wonderful platform – this growth has melded in very well with the system.
Our support staff have not had to increase their hours, and again, we haven't had to add any support staff. It has been a very leverageable system.