AXON DOES THE WORK OF 20 EMPLOYEES
"When we started with Axon we had about 12 to 15 trucks and now we're running over 135. Without Axon I would say we would need 20 more employees, just in administration. That just baffles my mind. I wouldn't know how to handle that many more employees."
Nancy Shirley
Owner
Bert Baxter Transport Ltd.
Estevan, SK S0C 0B0, Canada
FREE BOOK – "HOW WE TRIPLED OUR FLEET SIZE WITHOUT ADDING ANY OFFICE STAFF"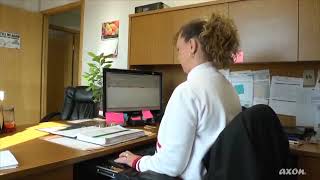 Bert Baxter Transport Ltd. from Estevan, Saskatchewan, has been with Axon Software since 1998. When they began using Axon Software, they operated less than 15 trucks. They have since grown to well over 100. Nancy Shirley, Co-Owner of Bert Baxter Transport discusses how Axon Software meets the demands of accounting in the trucking industry. Nancy describes Axon Software's payroll as the best thing since sliced bread. Nancy also talks about the executive briefing screens and the interface to the Omnitracs, Inc., a Qualcomm company satellite system.
I'm Nancy Shirley and I'm an Owner of Bert Baxter Transport Ltd. in Estevan, SK. The company has been in business for some 55 years, and we purchased it in 1977.
Tell us about your company.
It is a family-oriented business. My husband and I and our three sons own the company. Our three sons are managing the other branches. We look forward to being here for many years to come.
We service the oil patch, mostly in southeastern Saskatchewan. We also do long-haul between the United States and Canada and overnight service from the supply depots in Alberta to Saskatchewan.
We have another branch office in Fort Nelson, BC, and one in Leduc, Alberta.
Tell us about your experience with Axon Software.
Well, years ago, when we were much smaller and had just a few trucks, I was having an awful time doing the books and keeping up with everything. I tried different software packages to help me, but they weren't doing the whole trick.
When I read about Axon in a magazine, I contacted the people in Saskatoon and the first thing the salesman said to me was, "You're doing the same job four or five times." I said "Yes, I don't want to do that. I want to be able to do it once and have it done right.
So, I looked at the software, and it was a wonderful program.
We've never looked back since we started in 1998 with Axon.
Axon gave us the ability to track all of our assets. It kept our accountant happy because we had everything tracked – invoicing and accounts payable and whatnot.
We did not use the payroll right away but when we did, a couple years after we started, we found out that was the best thing since sliced bread.
When you started with Axon Software, how many trucks did you have?
I would say about 12 to 15, and now we're running over a hundred. We're probably running 135 with our lease operators.
With the fleet you have today, if you didn't have Axon Software, how many more employees do you think you would need?
Wow. I would say 20 just in administration. That just baffles my mind. I wouldn't know how to handle that many more employees.
Why did Axon Software have such a big effect?
Well, just because there wasn't so much double entry. Our people could do a lot more and handle a lot more operations in the accounting than they ever could manually. The integration of Axon is the best part.
Has Axon Software helped you improve your customer service?
Definitely. Definitely it has, because of having the information ready for our customers immediately. They just have to ask, and we can show them their invoice, or where the job was done, or what was done, or what happened on it.
All this stuff is showing up immediately and the customers are much happier with us.
If you were to add another 50 units to the fleet, would you have to increase your office staff?
Probably not. We might have to add one person to help with some of the paperwork, but not by much because the processes are there, ready to go.
Is the software easy to use?
Yes, we find it very easy to use. What comes out of the computer is as good as what you put in and Axon makes that easy.
If someone in the industry asked you about your experience with Axon Software, what would you say?
I would say it was great! I recommend it to everybody, especially in the trucking business because it is so demanding for accountability. I always say that for every turn of one of those 18 wheels, there's another piece of paper, so Axon helps eliminate the extra paperwork.
As an owner of the company, how do you find Axon Software's financial reporting?
It helps a lot because it's immediate and everything is in there. You know from one day to the next what's happening. One of our managers says the best part of Axon for him is the Executive Briefing. He loves it. He goes and checks it out every morning – makes sure we're still making money.
Last thing, has your investment in Axon Software paid for itself?
It's paid for itself many, many times over. We thought it was a lot of money, but we did jump in. I think, over the years, that without Axon we would have needed at least 20 more employees.