AXON SOFTWARE HAS REALLY HELPED US STREAMLINE OUR PROCESS
"Our business now is over-the-road, intermodal, and local drayage… moving containers and rail trailers from Augusta to and from the Atlanta area… When you have four different systems, you have to create something four different times. Axon has helped us by streamlining the process."
Walter Welborn
President
Augusta Transportation Inc.
Augusta, GA 30901, USA
FREE BOOK – "HOW WE TRIPLED OUR FLEET SIZE WITHOUT ADDING ANY OFFICE STAFF"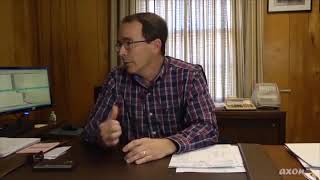 You could be losing money, customers, and employees because of poorly integrated transportation management systems. Augusta Transportation Inc. of Augusta, Georgia does over-the road, intermodal, and local drayage through the southeastern US. Augusta's President, Walter Welborn, spoke to us about their Axon Software experience and how it solved that problem.
My name is Walter Welborn, and my role with Augusta Transportation Inc. is currently the President of the company, we're located in Augusta, GA.
Tell us about the company.
Augusta Transportation Inc. was started about 44 years ago by Mel Rhodes and [the late] Jack Koley who operated a local rail yard. They would take containers and railcars off the train, truck them to customers, have them loaded, and bring them back in.
The railroads decided to close the local yards, so Augusta Transportation became more of an intermodal carrier moving containers and rail trailers from Augusta to and from the Atlanta area.
When I joined the company about 15 years ago, we were primarily an intermodal carrier. But since then we've become more and more an over-the-road carrier through the southeastern US.
Our business now is over-the-road, intermodal, and local drayage, typically moving our trailers with customer product between a vendor and a user – for instance, between a golf cart manufacturer here in town and one of their vendors that does a lot of their powder coating.
Right now, we're running about 25 trucks and a lot of trailers. We also have a trailer rental business that we rent mostly for inventory storage at different manufacturers here in Augusta.
How did you manage the business before you started using Axon Software?
Before trucking, I was in banking. Something I have seen going from one industry into another, a lot of companies like ours start off with a software system that maybe they developed. Maybe it started out as a handwritten ledger. Over the years it becomes a little more sophisticated.
In this company, Bob Griffin, who still works with us, developed several programs. Some of them were based on Excel; some of them were based on different software systems. And they did a real good job.
The only problem is they were segregated. One program did one thing. Another program did another segment. We invoiced under a different program. And it was working okay, but we could see five or six years ago that it was time for us to make some changes.
It was hard to retrieve records, hard to hand off information from one system to the other, from one person to the other if they were in different systems.
What led your team to start looking for software?
We actually looked at several different software providers and spent a lot of money on one system, and it just didn't work. It was probably a good system, but you almost had to have your own IT department to get it set up – to get everything off the ground and running. And we never got that system running. It was spent money that we never recovered. It just didn't work. That's what we tried before Axon.
We got to the stage where we were big enough that we could just do the day-to-day invoicing and the routine things well enough, but when you had to go back and recover information that you're looking for from something that happened six months ago or a year ago, that was a problem. We also felt that in the hand-off of information from one person to the next we were letting things fall through the cracks.
If somebody sets up a customer, they have to hand off the information to the dispatcher who gets the first order, and then communicate that to the driver, and then after the dispatch it gets billed. We were afraid that we were losing things between each one of those hand-offs. What happens if we did a run, and it didn't get recorded so that we could invoice it?
With a bunch of different systems where you're going from one to the other to take care of the process you increase the chance that you're either going to disappoint a customer or not collect the money that's due to you for performing that service. Our CEO at the time, Jack Koley, asked me to look into different software opportunities after we'd had one failure.
We spent at least a year talking to different people. We had been disappointed one time, and we felt like we needed to really work through this process before we made a major purchase.
It's not only the financial commitment but, when you make a commitment to restructure your whole business based on the software, that's a major decision for a small company like ours. So, there was a lot of heartburn, I guess you'd say, in going through that process.
When it came down to it, the questions that we asked were best answered from Axon. It seemed to be the best fit for us.
How has Axon Software helped you simplify your process?
One way it's helped us is just in customer satisfaction – taking care of the customer, giving them what they need.
Another way it's helped us is knowing, day to day, what we look like financially – how we anticipate the month to finish. That's become more and more relevant to us in recent years as our business has grown – managing our cash flow, getting on-time type information. So that's helped us in day-to-day management of the company.
When you have four different systems, you have to create something four different times. Axon has helped us by streamlining the process. Once you've created an order in the system, it doesn't go away. When the order has been finished, it's been invoiced. So, you don't have to enter customer information into a dispatch system, and then put a dispatch system into an invoicing system, and then from invoicing into a financial system to create financial statements which we had to do before.
Now everything just follows through the process automatically from beginning to completion: from finding the customer, to collecting the receivable, to creating the financial statement, and even beyond that to when you have to retrieve information, maybe a year later at the request of a customer or to verify some financial information internally. So that's really helped us by streamlining the process.
How has Axon Software helped you with your driver settlements or owner operator statements?
The new system provides much better information for the drivers. It used to be that once a week there was a lot of discussion and often a disagreement about a driver settlement. Now it's broken down clearly. There is very seldom any discussion or disagreement over that process.
How has Axon Software improved the productivity in your office?
If you're spending a lot of time moving from one system to another like we were in our old software systems, there's a lot of spinning wheels, recreating the same process over and over. That's helped us. The other thing is retrieving information at the customer's request after the fact. If a customer says they didn't receive an invoice and you don't know it 'til sixty or ninety days later, it's so easy to retrieve on Axon and put it in the hands of the customer either by email or fax – whatever they want.
The effect of that streamlining is that we used to have four people doing what two people do now. Two people have moved on to other jobs, and we have not replaced them. We have fewer employees doing the work than it required in the past – about half the employee power.
How much would that be saving you on an annual basis?
I feel pretty comfortable in saying we probably save the amount that we paid for Axon each year in employee expense.
Has Axon Software helped you through the tough economic times?
The years 2009 and 2010 were rough on us. Now we're growing again. 2011 was a positive year for us. I don't think that we would have been able to survive the last couple of years if we had had the same staff level that we had before we started using Axon. It has allowed us, with minimal staff, to be able to measure the work we're doing week by week.
We measure our revenue per mile versus our cost per mile. Being able to see what business we need to move toward or away from and which business we need to enhance is extremely important for us. And that information would only be available to us through this system – through the financial section of Axon. So, I'd say that's how it's helped us through the lean times of 2009 and 2010.