WOW, I SHOULD HAVE MADE THIS CHANGE YEARS AGO!
"We process an incredible amount of paperwork. We also sell a lot of different materials and commodities. This is the first time that I have all of the systems together – the dispatch, the billing, and the payables."
Sharon Chapin
Operations Manager
Assured Aggregates Co.
Salinas, CA 93907, USA
FREE BOOK – "HOW WE TRIPLED OUR FLEET SIZE WITHOUT ADDING ANY OFFICE STAFF"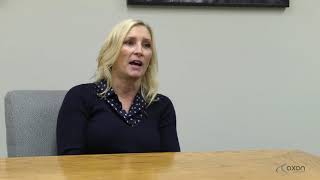 Change can be scary, but Assured Aggregates Company realized less than a year ago that sometimes change is exactly what a business needs to reach the next level. We sat down with Sharon Chapin to hear all about their experiences during their first year with Axon Software.
I'm Sharon Chapin, Corporate Secretary and Operations Manager of Assured Aggregates Company.
Tell us about the company.
We are a local transportation company offering transportation and materials, generally within a 100-mile radius, although we do venture outside of that. We are located in Salinas, California.
We started using Axon on January 1st of 2015, so we are about 10 months into this process. The support system has been great. We are very pleased.
Tell us about your Axon Software experience.
I was on the previous system for 24 years, so that was a little bit of a culture shock when I went out and started looking for a new system. Although I was quite nervous about the transition after 24 years on the same program, Axon really opened my eyes quite quickly that 'Wow, I should have probably made this change several years ago!' A lot of things have changed, and again, we are very pleased with the product.
I wanted to get on the system, learn the system, and get everybody up to speed on it. For me to make a change after 24 years on the same system, I kept thinking, 'Oh, lord, am I gonna learn this thing?' Now they are calling me Mrs. Axon. I'm feeling pretty good about that.
What sort of problems did Axon Software help you solve in your business?
We process an incredible amount of paperwork. We also sell a lot of different materials and commodities. We use a lot of independent contractors.
This is the first time that I have all of the systems together – the dispatch, the billing, and the payables. Before, we had two separate systems. Our dispatch operated on one, the accounting on the other.
I think pulling all of that in as one has been a major plus as far as reports and access to everything. Axon has helped us solve a lot of billing issues, dispatch issues, and everybody is working on the same sheet of music, so to speak.
I have a staff member that is going to retire at the end of the year possibly, and I'm not going to be filling that position. I feel that with the Axon system everybody should be able to more than keep up on the paperwork.
I don't think that we need to fill that position, because I think that we can do without one person here. I think the system is helping us process everything on a very timely basis.
Do your owner operators like the driver settlements?
I think that there is a lot more detail in the reports. If they have a deduction or they had to do a repair order or something, they see a lot more detail. A lot of times they will use their own freight bill – we transfer it onto one of ours. They are able to see all the tag numbers, the exact commodity that they're hauling, they're seeing more detail than what they had seen in the past.
Has Axon Software helped you consolidate your invoicing?
We are able to go in there and customize things a lot more to be what we're looking for. We definitely did not have that in our old system, so I think that is a real plus.
I'm finding that certain clients who we work with want some particular information, so the reporting system – going in to get that information from those invoices – is definitely an important key.
Has equipment revenue reporting given you a better idea of what is going on?
Yeah, it definitely has, and we probably aren't utilizing it fully yet, such as adding the component with the shop in our maintenance facility. We will probably do that down the line.
Being able to pull up a piece of equipment and look at everything that it's doing …. Again, I think that reporting module is key with all of the different elements that we are pulling from.
Has the custom report creator helped you in your business?
I am really thrilled with that. We are 10 months into this, and I would say that there is still a bit of a learning curve, especially with the reports. I have to say again that making a phone call or sending an email, somebody from Axon responds very quickly. They have helped me pull up information that I thought would be impossible. The reports are able to go into detail and get me what I need. That is a huge plus.
Has Axon Software reduced the amount of entries you have to make?
I can really see a difference in the streamlining of the payables. Whether you want to run just one check or you're going to run multiple checks – I know my payables person is finding that process much easier and much smoother.
There is less entry and that's because of the way the ticket is set up in dispatch. Our old system didn't have that. She would have to set up the job and start the ticket while somebody else processed that job.
Has Axon Software helped you with your billing?
That is another thing I really, really like with Axon is seeing which tickets aren't billed, being able to go in there if a customer calls you needing something. Being able to pull up that information and also double check to make sure that there isn't something that we've missed that hasn't been billed. That ability right there is something that pays for itself.
What do you think your return on investment is with Axon Software?
Do I think I'm going to see 100% return on investment on Axon? Absolutely, yes. If I'm not going to replace one person and then you look at that salary, well, the system just paid for itself.
I feel like this was a great investment. I looked at a lot of systems. I looked at a lot of software. I talked to a lot of people, and I was really impressed from the first phone call when the salesperson called me back and we started this conversation.
I talked to quite a few other software vendors and I'd say Axon was right at the top. That's why I bought it.
How do you feel about the support?
The support from Axon is top notch. When I call, when I email, I get an almost immediate response. That's important to me. I don't want a system that if I pick up the phone or send an email, nobody responds to me, but with you guys I am really impressed.
Do you find the software fairly easy to use?
I thought it was going to be a real challenge and we started off a little bit rocky, but I connected with the folks at Axon. They said, 'We won't cut you loose. We will make sure you know the system.' They really did, and that spoke volumes to me.
I had staff that was really nervous about this transition. They're getting to be little pros now.
If someone in the industry would ask you about your experience with Axon Software, what would you say?
I would say that it has been excellent. Top notch. People have asked me, trust me. Assured Aggregates is one of the leaders in this industry and I have people over the years that have called on me for many things – how to do things, what I'm using, and people call me about our software all the time. I'm kind of pushing people this way. I really do, I recommend you guys.